The diode laser is a state-of-the-art medical technology presents in the most modern dental clinics for the extreme effectiveness and reliable action as well as for its versatility of application.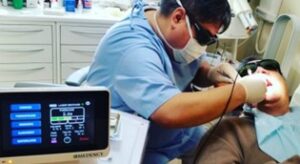 Diode Laser's features
Laser light is used in oral sector to maintain controlled effect and precise changes on the target tissue by transferring electromagnetic energy.
The transferred light energy reacts with a target tissue by:
TRANSMISSION
REFLECTION
SCATTER
ABSORPTION
The factors that affect absorption and thermal effects on the target tissue separately and/or collectively are:
Laser wavelength and tissue composition
Incident angle and spot of Laser Beam
Exposure time
Laser emission mode
Application motion
In the tissue there're components which absorbs laser light, they are known as chromophores.
Types of chromophores in the oral tissue are:
Hemoglobin
Melanin
Water
Pigmented proteins
Maximum control of laser-tissue interaction can be achieved if the incident laser beam is perpendicular to the tissue surface.
Reducing the incident angle towards the refractive angle of the tissue surface will allow true light reflected with increased potential of associated tissue changes.

THE EFFECTS OF LASER LIGHT
Once reached the soft tissue, the properties of the laser light allow to:
Faster COAGULATION: the particular interaction with melanin, hemoglobin and dark pigments provide a quick and precise incision with immediate bloodless action.
The advantages of the laser surgical technique are different, from reduced treatment invasivity to a comfortable healing during post-operation with reduced use of antibiotics.
High DECONTAMINATION: Water is another molecule that interacts with laser irradiation. The laser light increases local temperature targeting and destroying bacteria, for example, inside periodontal pocket.
Laser applications are also associated with the traditional methods (irrigants) to increase the effectiveness of the treatment.
Deep BIOSTIMULATION: When used as a therapeutic agent, laser light acts as a cellular catalyst.
By penetrating deeply the soft tissue, laser procedures stimulates the local metabolism with consequent cellular re-polarization (antalgic effect) and production of mitochondrial ATP (decrease healing time).

MOST USED LASER WAVELENGTHS IN DENTISTRY
450 nm diode: Maximum absorption peak with hemoglobin, it's used in surgery for precision and better speed of operation, even with low powers applied. It's also suggested for PDT – Photo Dynamic Therapy.
635nm diode: Superficial action due to the preponderant interaction with melanin. Promotes the increase in vasodilation (NO – nitric oxide) and the production of fibroblasts: It's suggested for wound healing.
808nm diode: Good interaction with hemoglobin and water. It's used to provide both surgery and therapy.
980nm diode: Good interaction with hemoglobin and water. It's suggested in surgery for the less invasive cutting compared to 810nm and in therapy to boost oxidative regeneration.
1064nm diode: Minimum interaction with hemoglobin and maximum with water, mostly used in surgery as an alternative to the 980nm laser. In therapy it provides less increment of temperature assuring good penetration and delivery of energy.
Scientific articles
Infrared light excites cells by changing their electrical capacitance
Four different diode lasers comparison on soft tissues surgery: a preliminary ex vivo study
An overview of laser wavelengths used in dentistry
Current Uses of Diode Lasers in Dentistry
How to choose the right Laser