Onychomycosis is a chronic fungal infection of the nail that may involve the nail bed, plate or matrix.
The condition is caused by dermatophytes, principally Trichophyton rubrum, Trichophyton mentagrophytes, Candida albicans and it's known to be difficult to treat with high rate of recurrence.
Clinical classification is performed according to the specific site of infection and includes superficial white onychomycosis, proximal subungual onychomycosis, distal and lateral subungual onychomycosis and total dystrophic onychomycosis. Of these, distal and lateral subungual onychomycosis are the most common.
Traditional treatments for onychomycosis comprise topical, oral, mechanical and chemical therapies. Topical drug treatments are not usually successful because they are unable to penetrate the nail plate while oral antifungal agents can produce adverse reactions due to a significant risk of liver, kidney toxicity and drug interactions occurring within the body.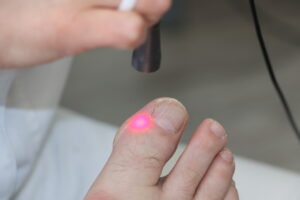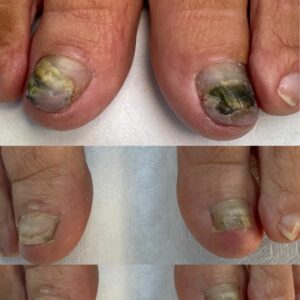 A new promising solution is represented by laser treatment which offers more selective and precise approach for several conditions like diabetic ulcers, warts, granuloma, onychocryptosis, foot pain etc…
Basically, Laser treatment works by heating up the nail layers specific to the fungus and attempting to destroy the genetic material responsible for fungus growth and survival.
Clinical research trials show that 6-8 sessions of laser therapy are enough to defeat onychomycosis with lower/no- recurrence.
Since the no-invasive and natural effects of laser therapy, the procedure can be offered also to elderly patients with drug intolerance, and those with liver and kidney disease.
Scientific articles
https://journals.lww.com/md-journal/Fulltext/2019/11290/Laser_treatment_for_onychomycosis__A_systematic.11.aspx
https://health.usf.edu/care/dermatology/services-specialties/cosmetics/nail-fungus
https://www.ncbi.nlm.nih.gov/pmc/articles/PMC6199788/